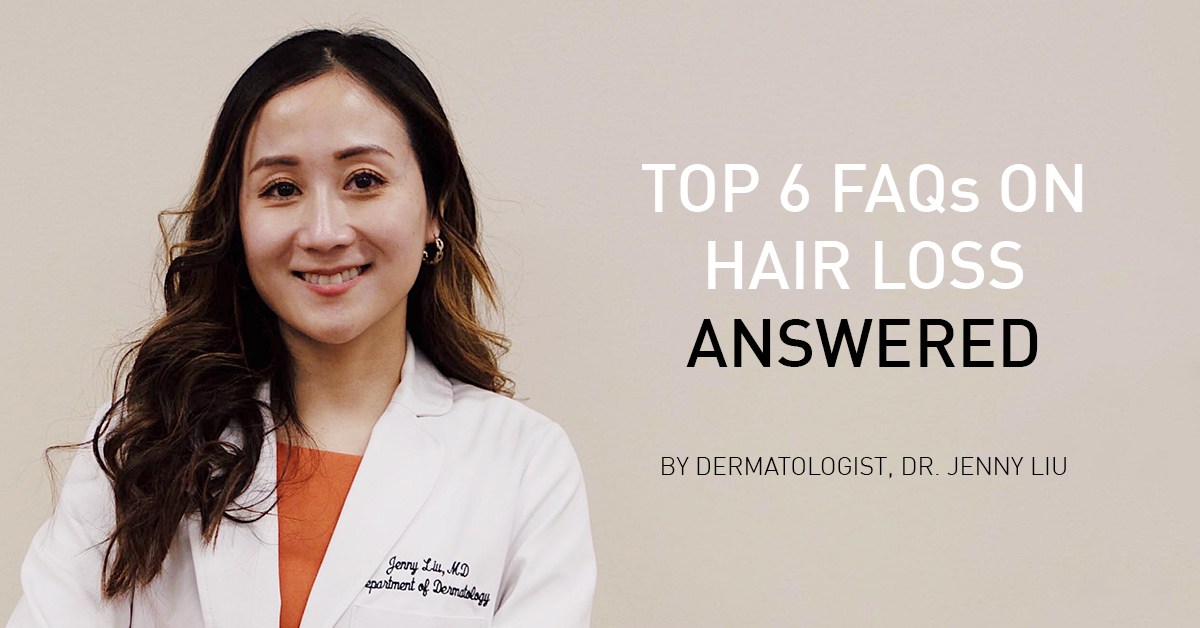 Instagram: @derm.talk
Blog: www.dermtalkdocs.com
My name is Dr. Jenny Liu. I am a board-certified dermatologist and assistant professor in Minneapolis. I love to educate and share knowledge on skincare, motherhood, medicine, and medical education. As a dermatologist, I see a large volume of patients with hair loss. Hair loss can be a very frustrating condition for patients, but also for the physician. There are numerous types of hair loss, but unfortunately, very few effective treatments for hair regrowth. Today, I hope to shed some light on the types of hair loss present and discuss the options available via prescription and OTC (over-the-counter).
THE MOST COMMON TYPES OF HAIR LOSS
More than 50 and 30 million men and women, respectively, in the U.S. suffer from the most common type of hair loss known as Androgenetic Alopecia. Commonly known as male and female pattern hair loss. In men, it can start in the early twenties and progress. It is often associated with thinning on the vertex scalp and receding hairline along the front and sides. If untreated, male pattern hair loss can often lead to baldness. Female pattern alopecia is similar to men with possible early-onset, loss of volume on the crown, but usually does not cause a hairline recession. Women will often complain of excessive thinning but rarely does it lead to complete hair loss.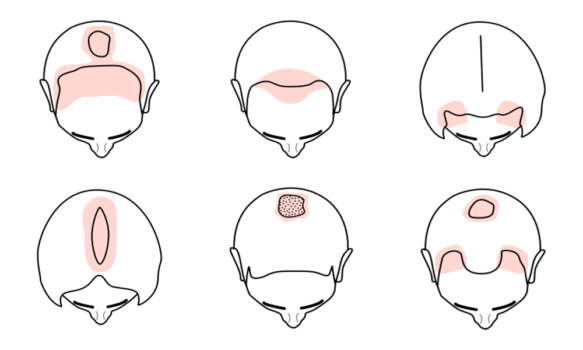 Patients often ask me the following:
1. Is there something I should be eating to get my hair to grow back fast?
A well balanced healthy diet rich in protein, healthy carbohydrates, fats, and greens are the keys to healthy skin, hair, and nails. Adding in a biotin supplement daily may help to strengthen hair. Your nails will probably grow faster than hair. Taking a vitamin D supplement can be helpful as many individuals may be vitamin D deficient and this can have a direct impact on hair growth.
2. What treatments are available for hair regrowth?
Unfortunately, limited hair regrowth treatments are available, and often takes time. A common topical treatment that some patients seek is Minoxidil. However, it doesn't work for everyone and can be irritating to the scalp leading to dermatitis. Other side-effects of Minoxidil may include unwanted growth of facial hair, chest pain, swelling in hands or feet, rapid weight gain, headaches, dizziness, and changes in color or texture of hair.
Finasteride is an oral medication used to predominately treat male pattern hair loss, and although more effective than minoxidil, it does come with higher side effects, including a decrease in sexual drive and erectile dysfunction. In some rare cases, these side effects can be permanent.
Lastly, in recent years, LED and low-level laser therapy (LLLT) have been demonstrated in laboratory studies and in clinical studies to promote tissue repair, regeneration, stimulation of cellular activity, and encouragement of hair growth. This can be a safe alternative or complementary treatment for those not responding well or hoping to avoid prescription treatments.
3. Can I have color or perm my hair while doing laser treatments?
Yes, it is okay to color and/or perm. But keep in mind if your hair is severely damaged by chemical treatments, hair breakage can occur, and this can often be mistaken for hair loss or diffuse thinning of the scalp.
LOW-LEVEL LASER THERAPY — DOES IT REALLY WORK?
Low-level laser therapy (LLLT) works by stimulating cellular activity. Since the 60s, medical-grade LLLT has been used for wound healing, nerve regeneration, joint pain relief, stroke recovery, etc. Home LLLT devices work similarly to medical-grade but emit lower power red light which has been helpful for skin and hair conditions, including hair regrowth.  
LLLT hair devices are FDA cleared for treatment of male and female pattern hair loss, respectively. It helps to proliferate hair follicle size and prevent catagen hair development. In multiple clinical trials testing LLLT devices for various hair loss conditions, statistically significant hair regrowth has been noted in patients using the laser device either alone, or in combination with other medical or topical treatments. It is a safe and effective alternative to the prescription treatments.
Frequently Asked Questions About Laser Therapy As a Solution
1. Can laser therapy still be effective with the use of both lasers & LEDs?
Yes, a combination of lasers and LEDs would reach both superficial and deeper tissues and provide precise depth and breadth of coverage. The laser is a monochromatic wavelength of light, it can focus and project deeper into the scalp. Although it may be more effective from its deeper depth of penetration, the higher energy could lead to more tissue injury.
The LED lights in low-level laser therapy are composed of red and near-infrared light. These are lower in energy than lasers, but they can exert the same end effect by increasing metabolism of mitochondria leading to increased collagen production and DNA synthesis. But, it does not have the potential tissue injury or adverse effects compared to laser treatment.
2. What type of hair will work with laser therapy?
Laser Therapy is intended to treat hereditary hair loss and promote hair growth. The Norwood Hamilton Scale and Ludwig-Savin Scale are used to help determine if laser therapy will work for an individual.

Curious if laser therapy will work for you? Take this hair loss quiz and receive a free consultation.
3. How does iRestore compare to other options?
iRestore can be used alone for hair regrowth. But it is a great complement to oral finasteride and topical minoxidil. Studies have shown that for individuals who've undergone hair transplantation or PRP injections for hair loss, iRestore is a great home therapy to maximize the outcome of those procedures by increasing metabolism and blood flow to the scalp.
Unlike other devices on the market, iRestore's most-advanced system, the iRestore Professional offers a total combination of 282 lasers and LEDs while most companies offer only lasers or only LEDs in the devices. The misinformation from other devices on the market is that only lasers work, which is not true and hasn't been proven. The combination of multiple light sources/diodes (lasers and LEDs) allows for light depth and breadth of penetration. This increases coverage that spreads out over larger areas of the scalp to distribute light energy more evenly.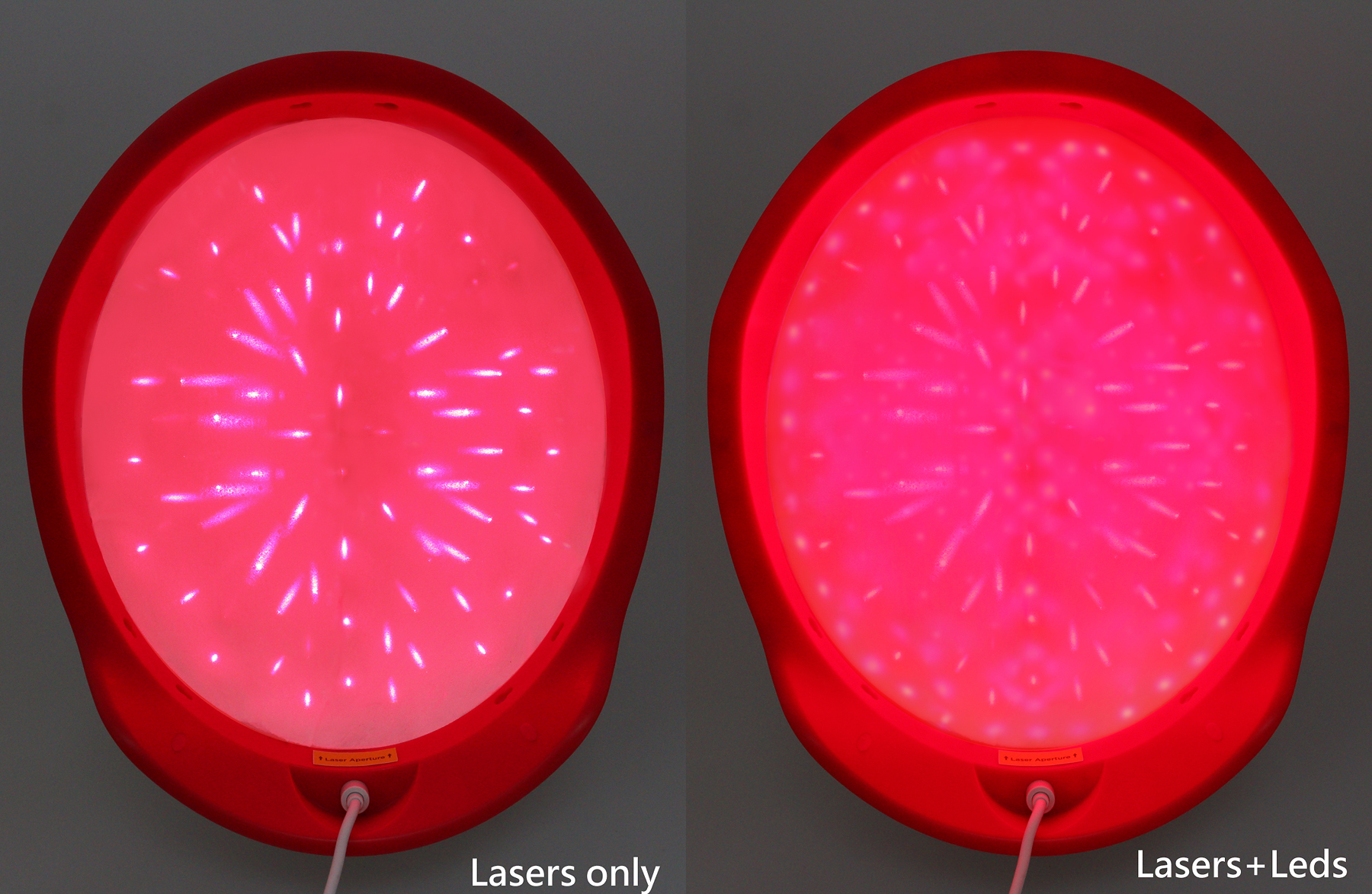 What would you recommend for patients going through hair loss — would you recommend low-level laser therapy as a treatment for hair loss?
Low-level laser therapy treatment is a safe and effective treatment option for hair loss, with minimal side effects. It compliments currently existing treatments and procedures to enhance an individual's outcome for maximizing hair growth. It allows one to complete treatment at the convenience of home without repeated office visits.
RevERSE HAIR LOSS NOW — TRY IT Risk Free
Hair loss can be a very frustrating condition for patients and dermatologists alike. As effective treatments are limited, patients often will see the most benefits when combination therapy is used for hair regrowth. See your dermatologist to ensure proper diagnosis and treatment recommendations. Laser hair devices can be an effective therapy your dermatologist will often recommend in addition to medication and topical prescriptions for optimal hair regrowth.