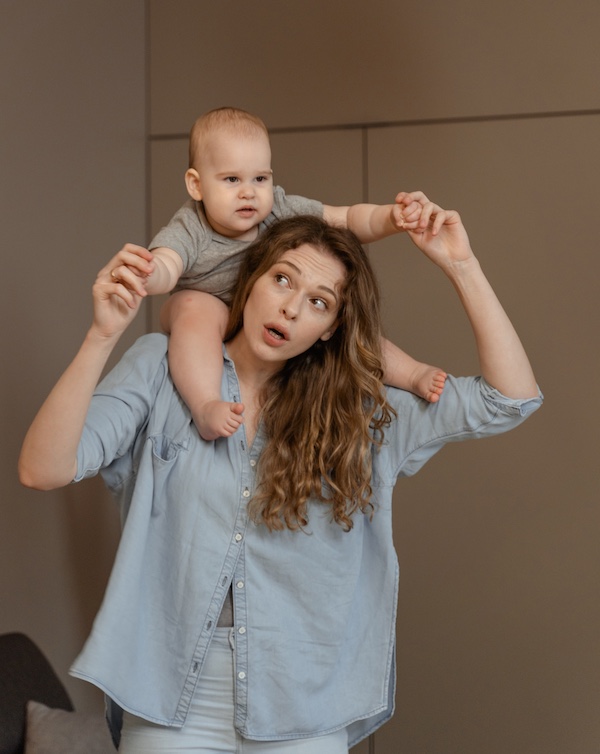 Calling ALL new moms out there! Well, really, all pregnant women, women attempting to get pregnant, and future moms as well!
We need you to read this to know that you are not alone when it comes to losing large amounts of hair after giving birth to your little bundles of joy.
Whether you know it or not, many women suffer from postpartum hair loss, so if you start to see clumps of hair falling out...DON'T. BE. DISCOURAGED.
If you're suffering from postpartum hair loss, you'll typically see it occur within six months after giving birth. I know what you're thinking. Why the heck does this happen?!
Well, on average, people lose around 100 hairs a day. But it happens little by little to the point that you don't even realize it! However, those beautiful pregnancy hormones prevent those daily 100 hairs from falling out.
But, boom! When that baby drops, so, too, do those hormones...and the hair that came with it.
Our iRestore Professional and Essential devices can aid in the restoration of that lost hair by nourishing your hair follicles. This can result in the continuation of hair growth during this time and the reactivation of dormant hairs through our medical-grade lasers and LEDs. Our devices are deemed safe if you are pregnant or breastfeeding, however, we do advise you to consult with your doctor prior to making them a part of your routine.
Now that you have the 411 on postpartum hair loss and why it occurs, let's look at some options for dealing with it the best you can!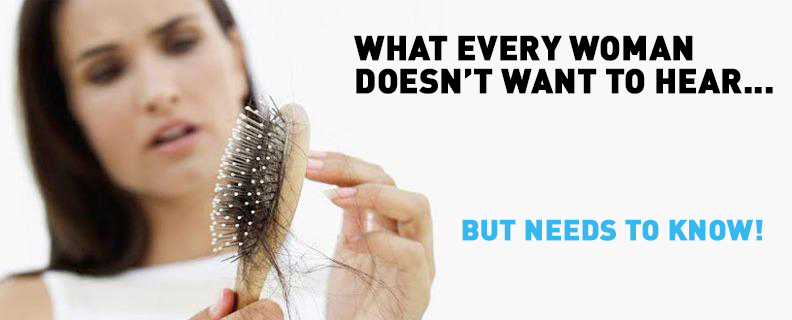 Repair with Anti-Hair Loss Shampoos and Conditioners
If you're starting to see hair loss after childbirth, there are a few tips to diligently follow:
Eat Healthily.
Be gentle with your hair when shedding.
Ditch your blow-dryers and curling/flat irons short term.
Lay off hair coloring and chemically-based treatments.
Invest in an effective, volumizing Anti-Hair Loss Shampoo and Conditioner formulated for fine hair! At iRestore, our Anti-Hair Loss Shampoo offers an advanced, volumizing treatment made from a restorative formula of essential nutrients to strengthen hair and promote healthier-looking hair. Our main ingredients include castor oil, amino acids, and antioxidants that help to eliminate shedding.
Our lightweight Anti-Hair Loss Conditioner is infused with biotin, argan oil, and ginseng, giving you a unique formula that helps to strengthen your hair follicles, moisturize your scalp, and repair damaged hair.
And we're so confident that our products work, that we offer an industry-leading 180-day empty bottle guarantee. Yup, you read that correctly! If you don't see any changes with your hair within three to six months, you get your money back in your pocket!
So, really, there's no reason why you shouldn't try it. I mean, you wouldn't have read this far if you didn't want to revitalize your lost hair with renewed density, moisture, softness, and health!
All of our products are made with high-quality ingredients that are non-invasive and safe, with a focus on getting you back to your pre-pregnancy, confident self.
Dry, brittle hair...no more!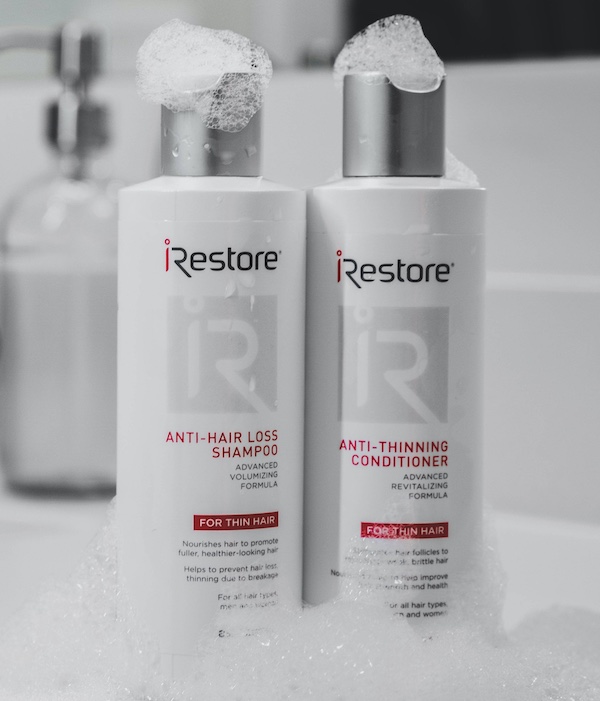 Soothe Your Scalp with Serum
Along with your volumizing and enriching Anti-Hair Loss Shampoo and Conditioner, your postpartum hair loss will also benefit from a daily Anti-Hair Loss Serum.
Living up to our iRestore promise, our Anti-Hair Loss Serum is proven to strengthen your hair with a clinically proven formula to nourish follicles and activate regrowth!
Our Serum's main ingredient is Redensyl. For those of you that aren't hip to it, Redensyl is one of the newer developments used to prevent hair loss and is said to be the best alternative to hair transplantation. It is based on regenerative medicine and, with consistent use, you'll see results similar to surgical hair transplant procedures.
Clinical studies showed that 85% of participants experienced significant hair growth and increased hair density in just three months when using our serum. Eighty...five...percent! Now, I know some of us are over-achievers, but I'm confident that most of us would be more than pleased with being in the 85th percentile for nearly anything!
Now that you know the science behind it, this is a MUST to add to your daily hair routine for restoring and maintaining your postpartum hair. And, yup, you guessed it. You get that same empty bottle guarantee so, why not?!
Pair this Serum with our daily Hair Gummy Vitamins...and you'll be kicking yourself for not trying it sooner!
It's simple...
Anti-Hair Loss Duo...check. Anti-Hair Loss Serum...check. Tackling your postpartum hair loss. CHECK!